Girl Crush: 5 Reasons to Love Rita Ora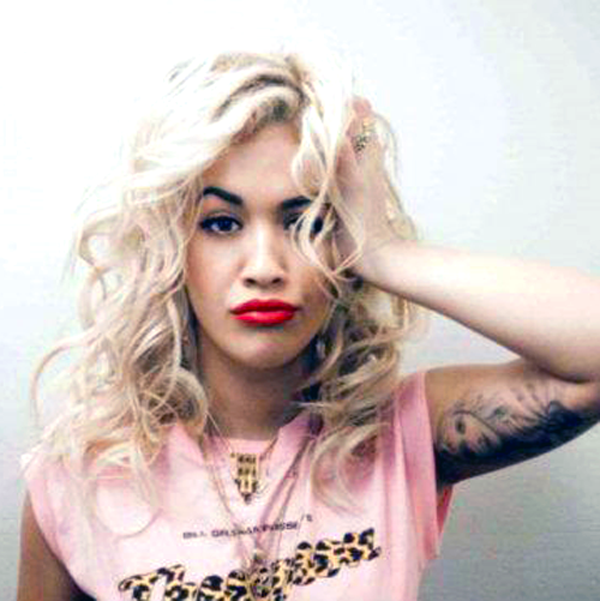 Discovered at 18 by one of Jay Z's peeps and groomed to be the next-big-thing. It's now four years later and she's prim, polished, and read' tah go. Rita Ora had us at red lips and ringlets but, OH, there's more…
1. WE WANT TO STEAL HER ENTIRE WARDROBE
It's not often that an up-and-comer gets "it" right off the bat. She credits her style idols, Gwen Stefani and Marilyn Monroe for her sporty-meets-sultry style. Though, we think Ora just knows what's up when it comes to wearing trends that are having a moment.
2. THE GIRL CAN SING AND EVERYONE KNOWS IT
As a wee babe in the the UK it was clear she had the talent to belt out a tune. By eleven she was already casting her musical spell on all who listened. Probably the same one that took hold of Chris Martin – from a little band you may have heard of called, Coldplay – when he asked her to open up their tour. Just a hunch but we bet Gwyneth is on board, too.
3. SHE'S A SNEAKER FREAK
Her Sporty Spice vibe isn't the product of stylists. Rita was rocking Air Jordans even before they were cool. Her mogul mentor Jay Z bought her an entire suitcase full of the basketball shoe as a signing gift. Way better than a bouquet of flowers.
4. SHE CAN ADD MODEL TO HER RESUME
Iconic sportswear designer DKNY signed the blonde bombshell to rep their 2014 Resort campaign. While it seems like the perfect fit it also means megababe model Cara D. is being kicked out of the brand's top spot. Since the two just made a music video together there shouldn't be any bad blood…unless the battle is over who has the better brows. In that case, it's a tie.
5. HER BF IS CALVIN HARRIS
We can't get enough of the electronic DJ, especially when we're getting our workout on. Apparently, neither can Rita. The lucky girl gets to hear him whisper sweet nothings IRL now that they're a couple. They've been canoodling for over six months which, in Hollywood time, is 10 years. Guess you really can find love in hopeless place.