Siting: American Apparel (#2)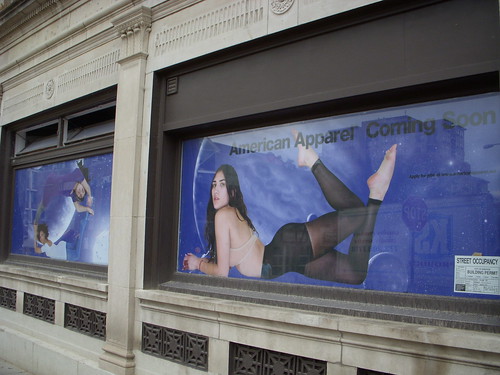 It seems that Mr. Charney is tapping into the Midwest's potential as a fashion resource. First St. Louis, and now Madison. Yet, unlike our southern sister the location has already been set. An American Apparel is taking over the rent from an old Reebok store at 502 State St. and will be ready for business in the fall…just in time for all 40, 000 students to go back to school shopping.
My first reaction is WOOOHOO, but I can't help but think what will happen to the American Apparel aesthetic once it's available in such a compact community. On one hand, it's a positive sign for the development of Madison's fashion voice to have its hip, affordable clothes available in our own backyard. Not to mention the company policies fit perfectly with Madison's liberal nature.
On the other hand, I'm worried it's sexy solids will be overplayed and American Apparel mannequins will be wondering around in the form of liberal arts majors (just like the ill-fated Urban Outfitters). Am I being to cynical? Is this really a blessing…maybe a cursed blessing given the circumstances? All I know is that I've got to wear my bandeau pencil dress as many ways as possible until I see you there in the fall!