3 Date Ideas That Will Have You Dying to Try Bagatelle NYC

Although Meatpacking is a quick walk from my apartment in the West Village, it's only on rare occasion that I choose to go there to eat unless someone suggests it. I'm not sure why as I've had nothing but good experiences there. The milk and cookies at the Whitney, Tuscan pancakes at Santina, three-hour brunch feasts at Soho House and many more delicacies of the 'hood have lured me in. Maybe the overwhelming scent of tourism and Acqua di Gio has somehow permeated my membranes to signal danger? I've never been good at science so who really knows.
When I was invited to dine at Bagatelle NYC, it was the same story. I jumped at the chance because I knew that my friends and I would never attend one of the massively popular boozy brunches which they are known for. As much as I miss getting drunk at Noon on a Sunday and dancing on a banquette after I finish my frittata, I'm more of an eating croissants in my underwear while reading the NYT kinda girl these days.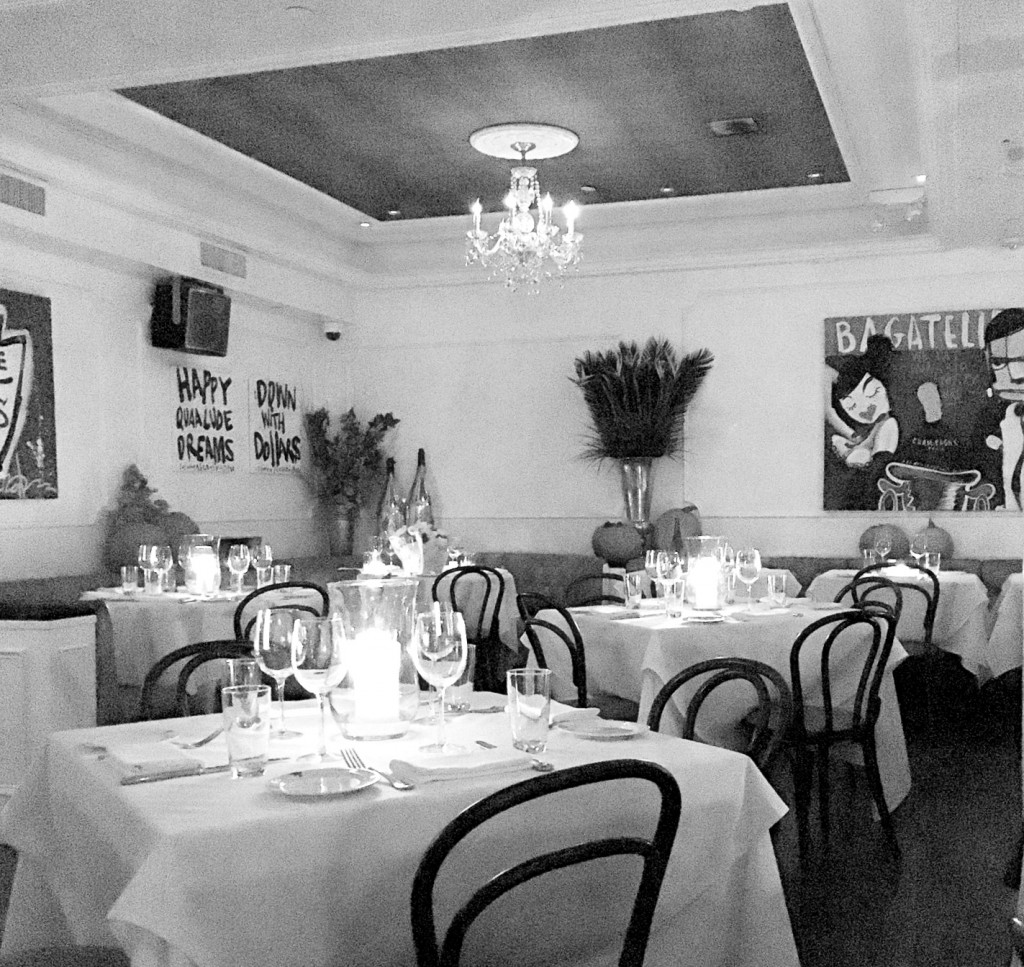 I arrived before my party and had a glass of wine at the bar while I waited. Sitting there, I noticed how relaxing the vibe was and fell in love with the juxtaposition of street art with white table cloths. I thought to myself, "Bagatelle would be the perfect spot for a first "just drinks" date." as I swiped through Tinder yet… if a guy suggested it I would probably have judged him immediately him before this evening.  This realization made me excited for dinner because I sort of felt like I was discovering a hidden gem in a way as well as having a therapy breakthrough.
Our crew ordered the entire menu for dinner. Literally, from top to bottom. There wasn't a moment of disappointment as I sampled everything from king crab ceviche to a veal porterhouse with their appropriate wine pairings just happiness that I chose to wear a dress instead of pants.
Will I return, yes. And, when I do, I will come on a weeknight after work but, before the models come in to pop bottles around 9. Want to know what I'll order? Well, that depends on the scenario.
Catching up with the girls//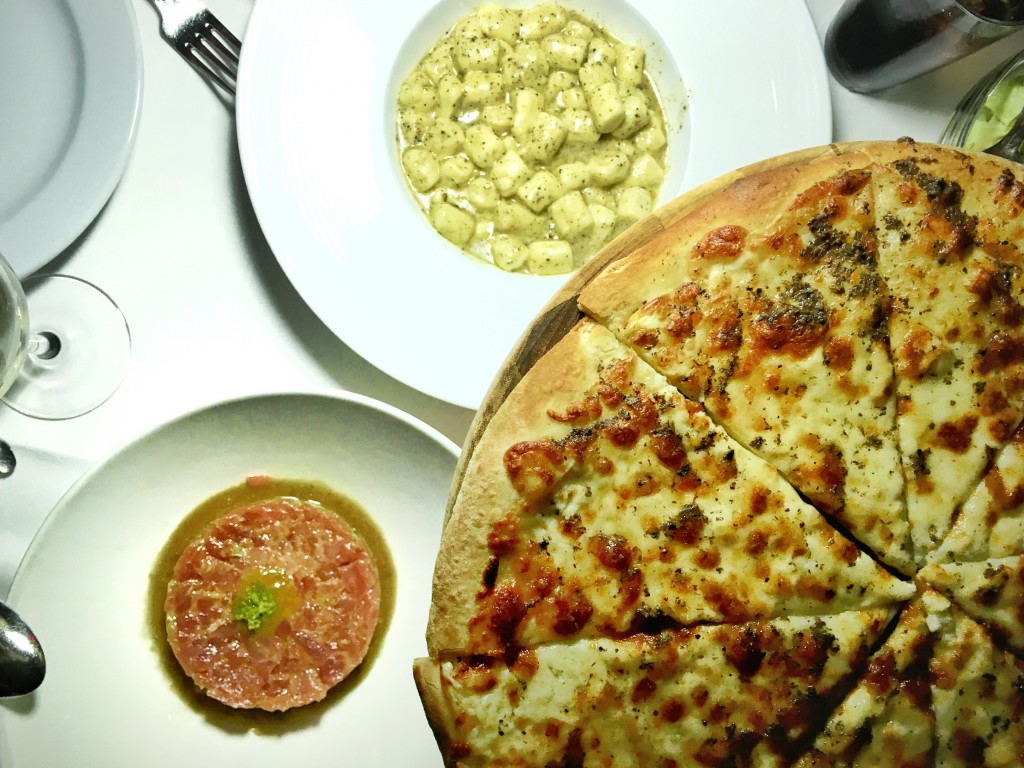 GNO's call for 90% wine and 10% carbs to soak it all up. The Pizza à la Truffle Noire (black truffle, flat bread, crème fraiche, scamoza) paired with the Gnocchi Truffés à la Parisienne de Nicolas (homemade gnocchi, black truffle pesto filling, truffle sauce) is the perfect solution. Not only will it harsh out your hangover the next day, your mouth will be left with a "When Harry Met Sally"-style mouth orgasm. This combo is seriously savory.
Throw in the Tartare de Thon Bagatelle (ahi tuna tartar, avocado salad, lime soy, vinaigrette, taro chips) to balance it all out – fish so fresh and so clean, you'll forget you're consuming 3,000 calorie appetizer sesh. Wash it down with a glass of Sauv Blanc and worry about it tomorrow at Pilates.  Â
In a serious relationship on date 23//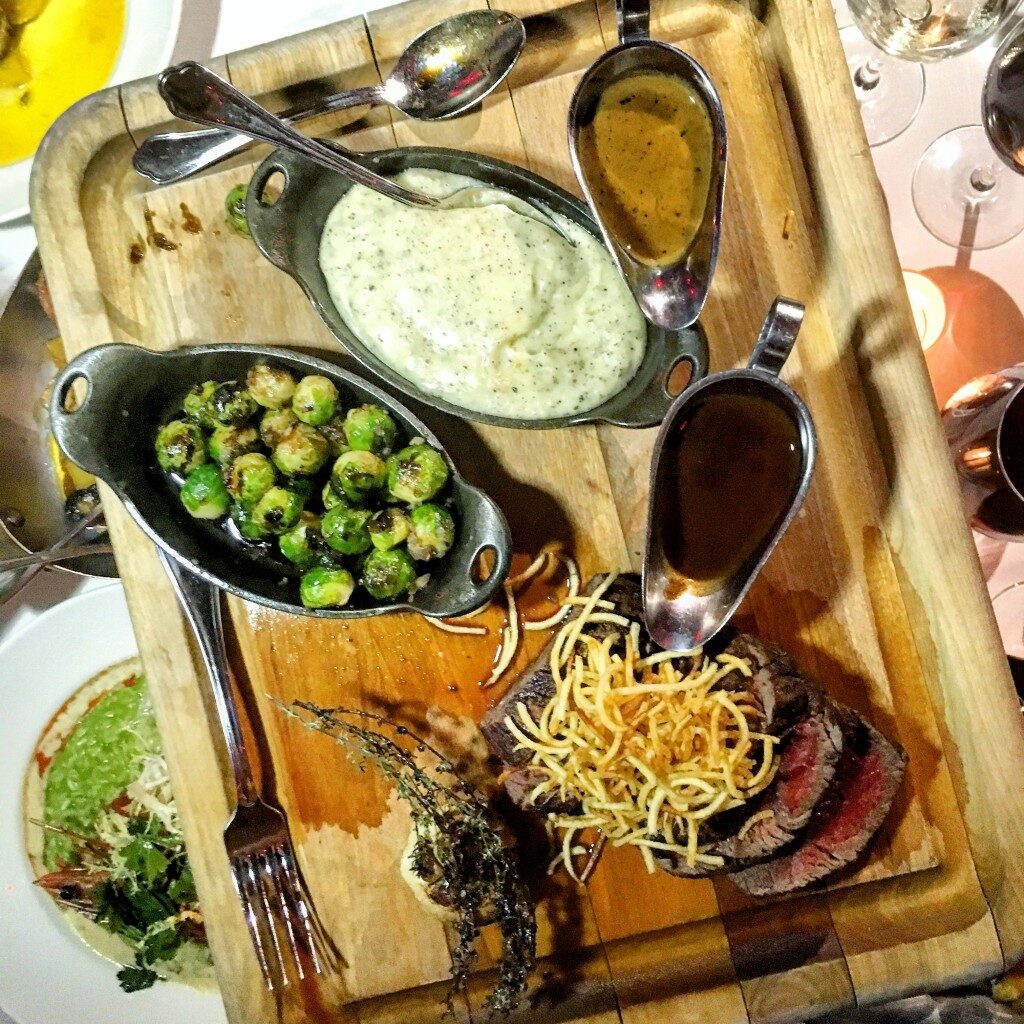 I would have suggested the Châteaubriand – Pour Deux for the second date but I am not sure that anyone needs to see me go to town on a 24 oz center cut beef tenderloin covered in red wine and peppercorn sauce and truffle potato purée until the deal is sealed and Facebook is officially notified. That said, this meal is very intimate and meant to be shared with a loved one – someone that accepts every part of you and your impending food baby. A ride or die that is willing to carry you into an Uber in the midst of a full food coma. (It's really THAT good.)
 When I need a pick me up//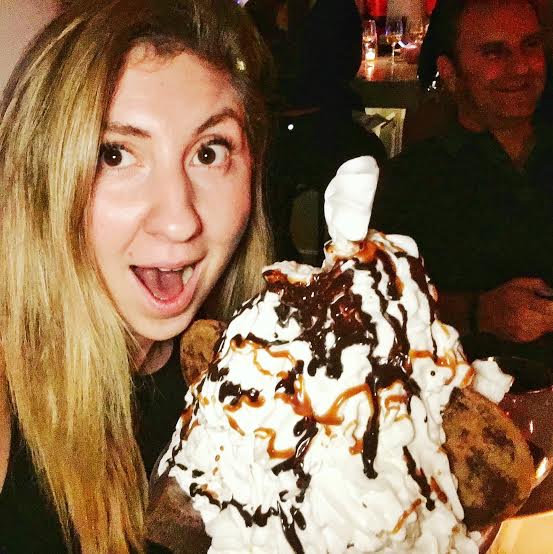 New York City + womanhood = a roller coaster ride. One minute I'm a boss queen and the next I'm crying the second I see a puppy. Two solutions, hide in your apartment for four to ten days a month OR eat an ice cream sundae as big as your head. That's where Bagatelle steps in with its secret off-menu dessert -an extremely large martini glass packed with ice cream, fudge brownies, cookies, whipped cream, and both chocolate and salted caramel syrup. If you're nice they might even add a couple sparklers! Suck it, PMS! [NOTE: Also good for birthdays and special occasions.]
– – –
Some favorites coming in at a close second are their take on the classic Caeser salad, prawns with risotto, veal porterhouse, and chocolate profiteroles for dessert. Check out the full, mouthwatering menu on Bagatelle NYC's website.
– – –
VISIT
Bagatelle NYC//One Little West 12th Street, New York, NY 10014