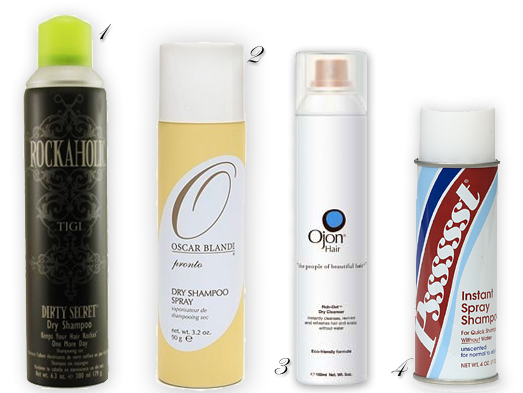 I'm known for never washing my hair.  By "never", I mean about twicea week, and I'm a white girl.
Once I was transporting a friend's cat to my house in a boyfriend's car. En route to my apartment the cat took a shit in the backseat. The smell wasabsolutely wretched but we couldn't roll down the windows because it was winter. To block the smell I covered my nose with a scarf and offered my boyfriend my hat.  "Thissmells like Chex Mix," he said, preferring to smell the cat poop over my scalp stench. Red flag that I needed a wash or a solution.
If something like this has happened to you, it's easier than you think to get hair that smells and looks better than cat poop. All you need to shield the unpleasant scent left behind by your hair's natural oil is dry shampoo.  I was confused at first but it's actually areally simple concept that's been around for ages. The products, which come in aerosol or talc form, are applied to the root of your hair then quickly brushed through. The excess oil is absorbed, odors are neutralized and you are left feeling shower fresh or close to it.
1.
Tigi Rockaholic Dirty Secret Dry Shampoo
, $14.99 2.
Oscar Blandi Pronto Dry Shampoo Spray
, $21 ;3.
Ojon Rub-Out Dry Cleanser
, $10 ; 4.
Psssssst Instant Spray Shampoo
, $5.99