Beauty Mark: Holiday Gifts Under $10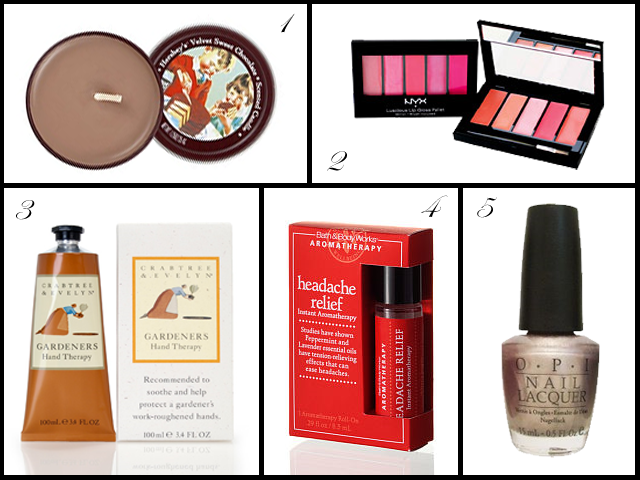 For the next three posts, I'll be bringing you my top picks for this year's beauty gifts according to your budget. First up – the broke asses. These are my favorite gifts under ten bucks (but don't look like it) to pick up for your little makeup-obsessed cousin, your hair stylist, or whomever you please.
1.
on10 Candles & Home Scents
, $3.50 – $10 – Sephora features this great line, on10, that makes old-school looking candles in scents like Hershey's Almond, Schweppes Ginger Ale, and 7-Up. My favorite is Hershey's Chocolate, because duh.
2.
Nyx Luscious Lip Palette
– At only $7 for five colors, this is a truly great deal. The best part is there are eight different color palettes to choose from.
3.
Crabtree & Evelyn Gardners Hand Therapy
, $8 – It's that time of year again and my hands are already starting to crack. I can personally attest to this cream – it's thick but not greasy and the shea butter scent is lovely but not overwhelming. Plus, I always think people who use Crabtree & Evelyn look rich.
4.
Bath & Body Works Aromatherapy Headache Relief
, $10 – Who doesn't need a little help in the headache department? Peppermint and geranium essential oils have proven to help relieve tension. Dab a bit of this on your temples and at the base of your neck and take a deep breath – customers love it. (P.S. You can give this to a dude!)
5.
OPI's Glamour Game Polish
, $8.50 – This soft metallic champagne polish looks great on all skin tones and is perfect for the holiday season.
Add a tiny bow or ribbon and you're all set!