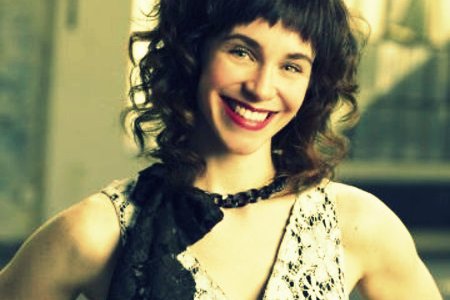 If you've seen Bravo's new reality show, The Fashion Show, then you know who Laura Dawson is. She's the sassy, quick witted designer that got kicked off two week's ago for what judge's felt was a tacky dress.
You'll quickly realize after you hear her bio(University of Cincinnati's College of Design grad, Donna Karan's Urban Zen and As Four alum, and stylist to the indie elite) that the gal isn't just some reality show castoff with bad taste. Dawson is a born-and bred Midwestern chick, originally from Cincinnati, with a beautiful, sustainable clothing line. The eponymous label, now based in London (via New York) is no reflection of her work on the reality show. Take a look at her website and you'll immediately be immersed in a collection full of whimsical beauty and comfort-conscious silhouettes.
We caught up with Laura and learned a little more about what she's listening to, her rude muse and got some sage advice for aspiring designers.
How would you describe your design aesthetic?
I create very sculptural, ergonomic clothing. I use luscious fabrics that are rare, unique, and organic as often as possible. I work with graphics and printing often to weave a surrealist edge with a playful outlook on life.
Do you think growing up and learning to design in the Midwest effected that aesthetic?How?
There are many parts of the U.S. where people sometimes feel a lack of pride about the area in which they live. it's a pity because so many of these places are stunning in their own ways – not because of how many millions of people are there or how tall the buildings are, but because of the beauty of the landscape and the people inhabiting it. [Growing up in the Midwest] drove me to want to create a designed environment for my life that was closer to my ideal vision.

Looking at your Spring 09 collection I see a lot of natural, voluminous pieces. I'm curious to know where your inspiration came from this season.
During the creation of the Spring 2009 collection, I wanted to tie in several prints that dealt with arctic animals and organically produced fabrics(a portion of the proceeds from thiscollection goes towards charities to reverse global warming). The silhouette inspiration came from my ever present obsession with structure. This season is a contrast between sleek, soft and round objects.
Who you are designing for?
Having traveled abroad extensively – to Stockholm, Amsterdam, Paris, Rio, London – before setting in new york for the past 10 years, I have quite a few different versions of my "it" girl in visual memory. She's fun, rude and usually the first one to get there.
Any advice for aspiring/emerging designers residing in the Midwest?

Have a solid business plan and a very good idea of how you will deliver your orders when they come rolling in! Have a ten year plan. Wear what you make. Wear it inside, wear it out to the movies, wear it in the morning and in the middle of the night. If something doesn't work, fix it – before someone else asks you to.
Where do you shop when you are in Cincinnati?
There is a great boutique in Hyde Park called
Suki
(3456 Michigan Ave. | Cincinatti, OH). I have loved[them] since the day they opened.
Several musicians have been spotted wearing Laura Dawson, clearly showing they're inspired by your work. Which musicians are currently inspiring you?

I love
Yelle
. Herstyle is so happy-spastic and irresistible. She has a few pieces from my line,which is great. I'm thrilled that she likes wearing it so much.
Who's on your playlist??
I'm currently listening to the
xlr8r magazine
pod cast. This week's mix is by
The Presets.
It's very spooky and quite nice. Dave Bruno (
People Don't Dance No More
) DJ'ed my last show and
the soundtrack
is stuck in my head on permanentrotation. I also like quite a few of the acts on the
Anticon
label.
Why?
and
O
dd Nosdam
arefavorites.
What's on your fashion wish list for Summer?
Well, having a fashion line kind of puts shoes high on my wish list. I think a pastel colored pair of flats is on the horizon,to go with my
floral hot shorts
. A mean pair of heels is needed to go with my
Audrey Hepburn/Breakfast At Tiffanys inspired mini skirt
.
To learn more about the designer and view the rest of her collection visit:
www.lauradawson.com.