Chicago: 1 More Reason I'm Glad I Didn't Go See Justice on NYE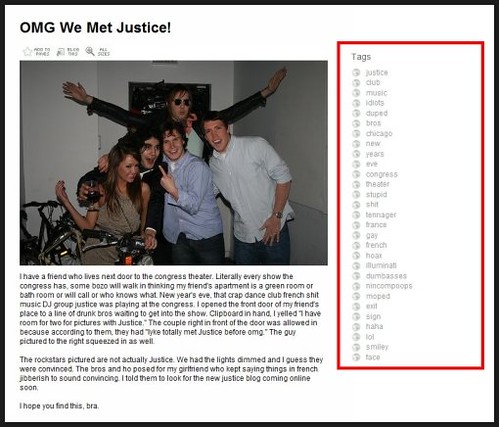 Earlier this week I wrote a post pertaining to the bad fashion and scary people that attended Justice at the Congress on NYE. A gross generalization, yes, but I really don't care. I was met with both praise and back lash for the post. It was great.
Now, as an addendum to that post, I found a funny pic(via EatSkeet/Flickr) that totally proved my points.
Here is a picture of (coincidentally) two of my pals, Paulie and Angel, posing with 3 people(some might say 2 bro's and trixie), who, according to the caption below the picture, thought they were Justice. Besides knowing those two and thinking about how funny that situation probably was in person, I also love the fact that the photo is tagged: duped, bros, stupid and haha. Click here to see the original.