The 3 Rules of French Fashion From A Minneapoline in Paris

Mark my words. If I see another pair of Chuck Taylors, I'm going to jump headfirst into the Seine. Ok, I'm exaggerating a bit, but I came to Paris expecting to see people dressed like Catherine Deneuve…not Courtney Love.
Don't get me wrong, I see how this look can be cool. I used to own several pairs of Doc Martens, so I get the appeal of this nouveau-grunge look, but I came to Paris chained to the idea that the French were the harbingers of all things stylish.
And really, they are the style setters I always thought they were. Even wearing the angst-iest, early 90's staples, they still look inexplicably chic. Unlike American's haphazard style, the French have an (albeit unspoken) set of guidelines that we just can't quite fathom in the States.
Rule #1: Proportion.
If a French woman is wearing an over-sized button down, you better believe she's also squeezed herself into a pair of the tightest, dark denim jeans she cold find. And if she's going to show a lot of leg, she'll always cover her cleavage – and vice versa. It's just the way it goes.
Rule #2: Always utilize rich fabrics and gorgeous accessories when possible.
It refines otherwise cheap looks that Americans have grown so fond of(XXI, Charlotte Russe). The trendy tent dress can go sour quick if wrongly accessorized. The silhouette, known for its high hemlines, can easily look a little too 'babydoll dress'. Yet, the French turn slutty into chic by choosing mature patterns, dark, opaque tights and knee high boots. No bare legs and clunky Mary Janes here.
Rule #3: …and most important…The hair.
It's perfectly messy. An oxymoron, I know, but the way that each hair seems to be out of place, on purpose is cause for admiration. And the more the wind blows through Paris, the better their hair looks. Whether it's up in a messy bun or down with bangs grazing across their eyes, it's always casual yet sexy. It's like they've won some genetic hair lottery of which I wasn't even allowed to partake.
I asked a French friend about this messy-haired, Seattle-meets-Champs Elysees look that I see on every young Parisian walking down the street. She just pursed her lips and responded, "When you're French, you just know what looks good. We don't have to try so hard." And after she took a lingering look at my outfit, which looked a little more Posh Spice than posh, I realized she might have a point.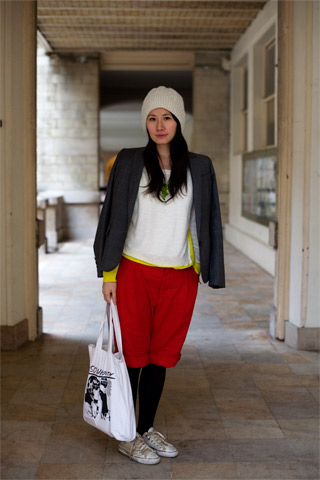 I figure that this ability to be so effortlessly chic is instilled upon them at birth. A fellow Minnesotan noticed one day, while walking through the Jardin des Tuileries, a baby sucking on a pacifier with a Hermés scarf tied to it. It begs the question, how can we compete when, as infants, they had Hermés scarves and we had snowsuits that made us look like puffy starfish?
There is no easy answer to that question, however, it also doesn't mean we can't try. So call me a convert, but I'm trying to tap into my inner Parisian. I decided to put a little less effort into making myself a fashion plate and more effort into building my style from the inside out. I threw out my flat iron, tossed my Rock and Republics in the back of the closet and bought some Chuck Taylors. But I'm still keeping my black stilettos. After all, I'm not really French. I'm a Minnesota girl.
Street Style Photos By: The Facehunter and Garance Dore