Looking for A Boyfriend? Here are 5 Items to AVOID On Your First Date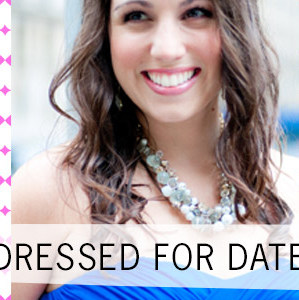 We chatted with Laurie Davis, founder of eFlirt Expert and author of Love @ First Click, about, what else, dating. The relationship expert sat down to give us some tips on snagging a dude. Step number one in finding the love of your life – dress the part. Below are her top five no-no's when it comes to first date fashion. Read below to find out what's in her Shopcade and what to wear on your next date to make this your last single Valentine's Day.
When date night comes, you probably have a few go-to items in your closet – staples that you look totally fab in. But remember that men view things a little differently than women. Sometimes the fashion that we love most, they hate so your favorite outfit won't necessarily be his. And since our bodies are so complicated with all their curves, the fit of something may be fun to you but a turn off to him. But don't freak! As a tech and dating coach, I work with both guys and gals every day and hear their gripes about dates … including fashion faux pas. Below are some fashion don'ts for dates and an easy, doable substitute for each that will make you totally smoochable.
Wedges
It's scientifically proven that guys don't like wedges. (Well, sort of – a survey shows that 71% of men find them the least attractive footwear around. Also on the list of shoes guys hate: UGGS, Crocs, and flip flops.) And yes, this includes wedge sneakers.
Instead, wear heels (even if they are low ones) because they'll visually elongate your legs and add some va-va-voom.
Peplum anything
While peplum tops and dresses are on-trend, they aren't the most figure-flattering thing a girl can wear, unless you're curve-less. Remember that a first date is a first impression and showing off your shape is part of that! Visually enhancing it with more curves will nearly always give the impression that you're heavier than you are. Even if you are thin, it might look like you're hiding something under those ruffles…
Instead, flex your trendster heart by going with something high-waisted which looks awesome on most body types.
Bold Lips
Smudge-proof doesn't necessarily mean first-kiss proof! Wearing a bright hue on your pucker may make him timid to make a move … and if he does, it will probably get messy.
Instead, go for a fresh-faced look by swiping on some NARS Orgasm blush which gives nearly every skin tone a dewy glow.
Blazers
First dates often happen after work but your office garb is not always date-night appropriate. Blazers send a serious and stuffy signal to your match, no matter how feminine the cut.
Instead, slip off the blazer and reveal a cute top underneath. If you're chilly, wear a cardigan which is softer and easier to cozy up in!
Prints
On a date, you really want him to focus on you not the crazy print on your shirt or pants. Most guys like things simple, so prints often come off as complicated and perhaps even a bit high maintenance.
Instead, opt for a bold, solid color especially for your top! You'll stand out just enough but keep his focus on you.