Latest Obsession: In the Navy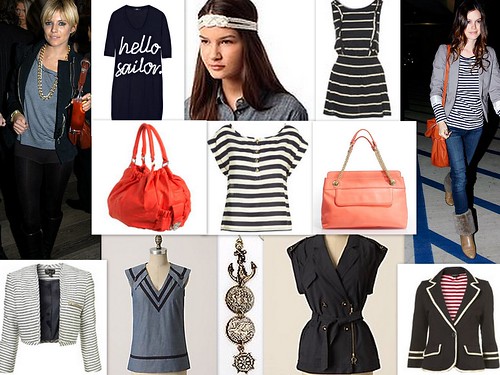 I never tire of the navy and nautical inspired apparel that resurfaces in many pre-spring and resort collections each year. My navy addiction is almost as bad as my addiction to black clothing items, but don't worry about me- my credit cards will just be hibernating until Punxsutawney Phil gives word that spring (with its new color palettes) are upon us.
The best part is these nautical items can be integrated with your winter essentials like blazers and bulky cardigans that can't be stored away just yet. You can freshen up navy pieces by mixing them with black staple items (no longer the fashion sin from your mother's generation.) For a taste of spring, add a pop of color to your navy clothing (think kelly-green, turquoise or vermillion) with your accessories.
Photos, clockwise from top left: Sienna Miller sporting the stripes, Hello Sailor mini T-shirt dress(Net A Porter,$170); Rope Knot Headband(Urban Outfitters,$18); Stripe Shirred Frill Tunic(TopShop,$50); Rachel Bilson rocking nautical with winter accessories, Shrunken Jersey Blazer(TopShop, $110); Rank-And-Style Jacket(Anthropologie,$248); Marché satchel(J.Crew,$198); Stripe Gold Button Blouse(TopShop, $60) Nautical Chain Drop Earrings(Urban Outfitters,$18) Ruche Top Soft Bag(TopShop, $70); Sail-The-Seven V-Neck(Anthropologie,$88);Striped Boucle Bolero Jacket(TopShop,$110) .