Beauty Mark: Holiday Gifts Under $25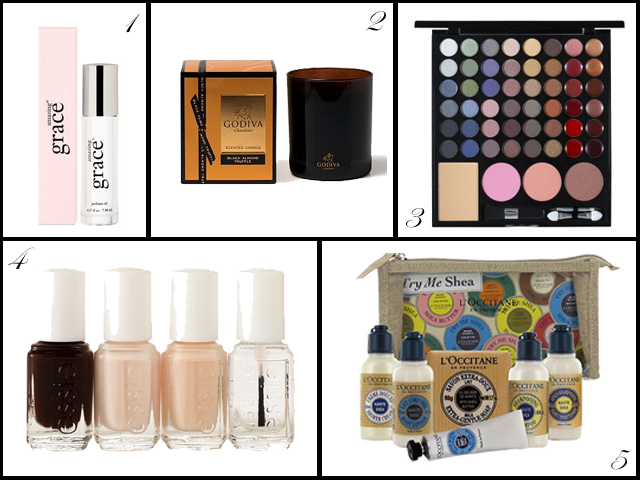 Here are some beauty ideas for your friends and family that like a little bit of extra pampering.
1.
Philosphy's Amazing Grace Concentrated Perfume Oil
,$25 – Philosophy's best-selling fragrance, Amazing Grace, is a cleanand feminine mix of soft florals and light musk. Perfect for theclassy lady in your life.
2.
Godiva Candle
,$22.50 – For any chocolate lover. Scents include Raspberry Ganache,Milk Chocolate Truffle, White Chocolate Magnolia, Peppermint Bark, andBlack Almond Truffle.
3.
Sephora's
Color Play Palette II
,$24 – 36 eyeshadows, 12 lip colors, 3 blushes and a bronzer, all under$25. If anyone is still looking for a gift for me, by all means.
4.
Essie On The Go Travel Set
,$20 – These neutral colors are great for all skin tones and the tinybottles are perfect for your purse or your office in the event of alast-minute date.
5.
L'Occitane 'Try Me' Shea Set
,$15 – Shea is a subtle scent good for men or women and everyone likes alittle L'Occitane in their life. The set includes shampoo,conditioner, shower cream, body lotion, face soap and hand cream.