Inspiration:Alice in Wonderland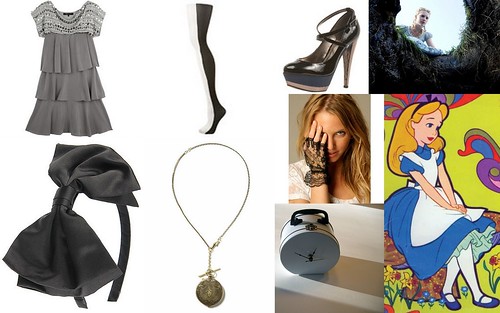 No one has ever done ruffles, bows, opaque tights and Mary Jane shoes quite like Alice of Alice in Wonderland. Alice certainly trudged through the rabbit hole, the mad tea party and the beautiful garden in style.
My recent inspiration comes from the grown-up version of Alice that is soon to be featured in Tim Burton's upcoming film. Alice's look can be reincarnated with oversized bow accessories, platform Mary Janes, and a shorter hem to her ruffled frock. Her outfit is complete with clock accessories to ensure that she never follows a late rabbit ever again.
Burton's Alice in Wonderland film- starring Johnny Depp (naturally,) Anne Hathaway, and his partner Helena Bonham Carter, is due out in March 2010.
Photo clockwise from top left: Grey Tiered Embellished Ruffle Dress by BCBG Max Azria, TopShop 2 Tone Tights, TopShop Shay Platform Mary Jane Shoe, Image from Tim Burton's Alice in Wonderland, Image from Disney's animated Alice in Wonderland, Free People Ruffle Lace Fingerless Glove, Metal Purse Clock by Woodstock Clocks on Etsy, Banana Republic Antique Locket Necklace, Forever 21 Satin Covered Bow Headband.