Trendspotting: Fashion Turbans from Runway to Retail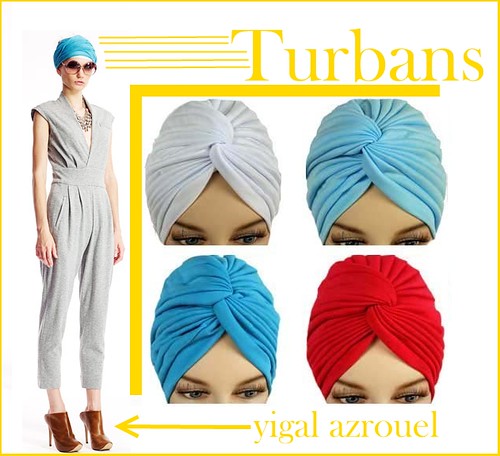 A post on Refinery29 yesterday reminded me of the great turban obsession of 2007. It was a passing trend that many adored from afar but only a mere few(in the Midwest at least) dared to wear.
Fast forward to 2009 and the short lived trend is back in the limelight thanks to Chris Benz, Rag & Bone, and Yigal Azrouël's 2010 Resort collections.
If you dare to try it this time around, I found the a quick and dirty way to get this runway piece on a resale budget.
Just mosey on over to your local beauty shop and you'll be surprised to find many a fashion turban and most likely in several colors. At the price point of $2 you can try it out and not feel guilty. If you end up hating it, this trend doubles as a sun cap or hair holder when washing your face.
If you live in Chicago, I recommend hitting up B&J Beauty Mart(1549 W Chicago Ave.)  in West Town. If you are somewhere else, here's a link to Luxury Divas, an online retailer selling them for $10.