ZOMGZ More MObama For 4 More Yearz! 10 Stylish Reasons Why We're Reasons We're So Excited…
In lieu of this *culture shock* that is the reelection of President Barack Obama, let's talk most about Michelle. To me, an Obama 2termz win means nothing more than a MObama 2termz fashion win! My mind glazed right over Barack and straight to Michelle. What would FLOTUS wear during the acceptance speech? Would she repeat one of her past gowns? We've compiled our list of our ten favorite Michelle dresses below!
1) Wooo woooo in Jason Wu!
To the Neighborhood Ball, the first of ten inaugural balls, Michelle wore this asymmetrical Jason Wu gown. The petals additions are particularly lovely, yeah?
2) Breakfast in the Blue Room in Michael Kors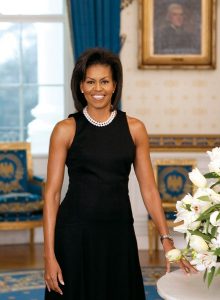 Sorry Nicki Minaj, but you're not the only one who can get Michael Kors without a little bedroom rendezvous, for her official portrait in the Blue Room of the White House, Michelle wore an Audrey Hepburn-esque black Michael Kors gown.
3) Unaf-FORD-ably Perfect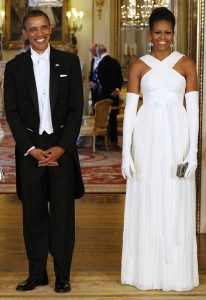 I mean…if you can afford Tom Ford, why wouldn't you?
5) Winning in Wu

Jason Wu was really a go-to designer for FLOTUS last term, as were the asymmetrical shoulders. Super hip, super cute. I like it.
 6) Pseudo-queen in McQueen

A gown fit for America's queen. Once again with the asymmetrical shoulder straps, but how can you deny this gorgeous McQueen gown.
7) Sequined Soronen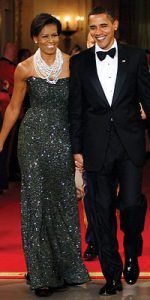 Black tie event perfect in a Peter Soronen strapless gown and Tom Binns statement necklace. My prom-nostalgia is kicking in…I'm totally partial to major embellishments at all ages.
8)  All Hail Alaia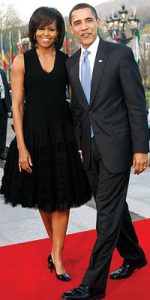 FLOTUS took LBD to a whole 'notha level in this Alaia dress. Talk about seksi seksi.
9) Spicy in Maria Pinto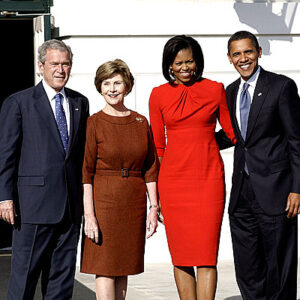 Laura Bush looks like a frickin' pinto bean in that nast grandma ensemble…Especially in comparison to MObama in this red hot tamale of a Maria Pinto dress.
10) Regal in Toledo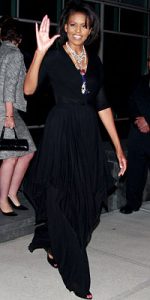 Obama sported this Isabel Toledo tunic and trousers, and holy sartorially offensive ensemble in all the best ways possible! Way to go, FLOTUS! You made a top and bottom combo look like a boho maxi. How man-repeller of you!