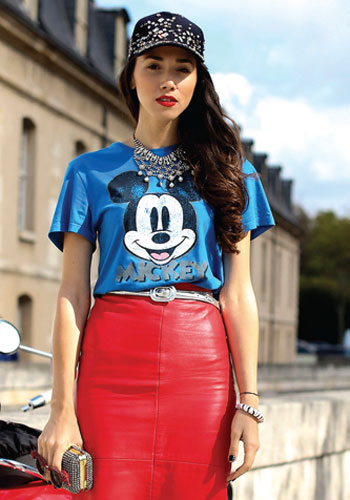 Last October, at Mark Fast's Spring/Summer 2013 London Fashion Week show, I had a front-row seat for the street-style circus. There were psychedelic prints in acid colors, bold bracelets and cuffs stacked up to the elbow, suspenders and safety pins everywhere I looked.
I watched one girl with purple hair casually walk back and forth past the photographers in a tartan miniskirt and thigh-high PVC boots.
Finally, one of them took the bait – and then they all descended on her. "Should I pretend to be on my phone?" she asked the shutterbugs, delighted. Later I watched Kate Lanphear, style director at ELLE U.S., leave the tents, pretending not to notice the snappers. "I guess so," she huffed, scowling, when asked for a picture.
By the next show, she was wearing a new outfit and "reluctantly†posing for more shots. For me, that was the moment that street style jumped the shark, morphing from its original purpose—to celebrate spontaneous examples of personal expression—into a contrived exercise in dressing for attention, making and breaking careers at the click of a camera.
It wasn't always this way. When photojournalist Bill Cunningham started taking candid style snaps 50 years ago for On the Street, his New York Times column, he was documenting the trends that defined generations, from the bell-bottoms and peace signs of the '60s to the baggy jeans and gold chains of '90s hip hop.
But, as access to the fashion world became increasingly available to anyone with an Internet connection, a new brand of fashion celebrity was born: those who could gain worldwide notoriety with their Blogspot URL.
The digital age heralded a new style democracy in which fashion was wrested from the hallowed halls of top magazines and shared, at least in part, with the people – and the street.
Fashion bloggers became stars, accepted into the fashion universe, and street style became a phenomenon. Next-gen street-style snappers Scott "The Sartorialist" Schuman, Yvan "Face Hunter" Rodic and Tommy Ton all released photography books, and Garance Doré even designed a capsule collection for Kate Spade.
According to André Leon Talley, an editor-at-large at Vogue, the medium contains an important message. "Street style isn't static," Talley told me.
"It's the opposite of high style, and it's of the people." Ton agrees. "When I started, it was about being in the wild and photographing editors in their natural habitat," explains the 29-year-old photographer from Oakville, Ont. Ton founded the blog Jak & Jil and contributes regularly to Style.com, GQ.com and Harper's Bazaar.
"It was about capturing an editor running out of a car or out of a show. There was movement and spontaneity." As a result, magazine editors like Giovanna Battaglia and Joanna Hillman became famous beyond the masthead for their superlative chicness.
The flip side was that anyone wearing a neon shower curtain as a cape could potentially earn their 15 minutes as a street-style star.
Discover more about the evolution of street style on the next page…
Now, there are signs that a backlash has begun. Legendary fashion writer Suzy Menkes recently penned a much discussed story calling for a time out on the endless showboating at the tents.
"We were once described as 'black crows,' us fashion folk gathered outside an abandoned building in a uniform of Comme des Garçons," Menkes wrote in T magazine. "Today, the people at fashion weeks are more like peacocks than crows – they pose and preen in their multi-patterned dresses, spidery legs on club – sandwich platform shoes."
What Menkes didn't mention is the vultures: hordes of photographers who prey on vanity, sizing up each showgoer with a cursory up-and-down to see whether they're worthy of being shot. This fosters the cycle of desperation and, according to Kyle Anderson, accessories director at Marie Claire, has even contributed to ruining careers.
"One of the girls at Russian Vogue got fired because she was too obsessed with street style," Anderson tells me. "Her whole life revolved around what she wore and getting into the blogs, so they got rid of her."
In Milan for the Fall/Winter 2013/2014 shows in February, I expected more of the usual: people dressed in competing hallucinogenic prints, begging for validation through a few posed snaps. But, on the first day, outside the Gucci show, I was stunned to find a sea of charcoal and black, peppered with the occasional camel coat.
One unlucky attendee hadn't received the memo and showed up in fire-engine-red paisley silk pyjamas with sky-high purple Lucite heels. She was completely ignored by the photographers – her worst nightmare realized. Peacocking, seemingly, was over.
Was it the power of Suzy Menkes, bringing simple dressing back with a swipe of the pen? Or was it just the fashion elite's reaction to a subculture that had been invaded by outsiders?
According to Caroline Issa, fashion director at Tank (and an established street-style star), the return to minimalist dressing was more of a nod to the clean lines, elegant sportswear and sober palettes on the Spring/Summer 2013 runways.
As Issa points out, "Designers affect street style on the most honest level, because what they create eventually trickles down into the fast-fashion stores."
So is it simply that since minimalism took over the spring runways, everything else looks dated? Perhaps it's not that street style has jumped the shark; it's that the fashion world is a shark, in the sense that it needs to keep swimming and moving forward in order to survive.
The trend cycle is frenetic, and those who can't keep up get left behind (wearing a teddy bear strapped to their head). If street style wants to maintain its relevance as a legitimate art form, it needs to evolve and continually reinvent itself, just like fashion. Can it? We'll all be watching.