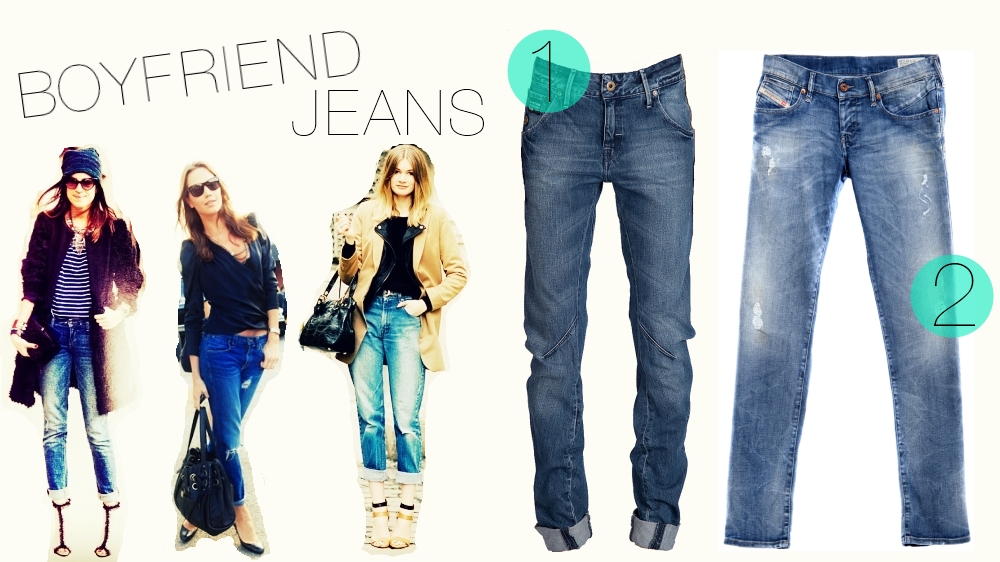 In 2008 when "boyfriend jeans" started to trend, we secretly wished we could pull them off. Even though celeb poster girl, Katie Holmes wasn't doing a very good job selling them, street style babes around the world convinced us of their cool-factor. Four years later, the denim style is still on the rise and more popular than ever.
We stayed away for so long because we were worried they weren't appropriate for our body type. We are curvy. Literally, curvy. Not Rubanesque-curvy, hourglass-curvy. Every rule in the book tells us to stay far away from baggy things.  Being the IDGAF-fashion rebels that we are, we finally tried on a couple of pairs to see if we could pull them off.
Now we know what the fuss was all about. They are insanely comfortable while maintaining a high level of style. Not an easy feat. And, as it turns out, just about anyone can get away with this loose fitting pant as long as they follow these five key points…
SIZE MATTERS Baggy does not mean bigger. Stick with your regular size and let them sit at your natural hip. It's going to feel weird at first but you will get used to it.
COLOR CODE Have fun with the wash. Sure, you look perfect in your dark denim skinny jeans but this is the one time when you can go wild. Get something a little rugged and worn in looking for that real "boyfriend" look.
TOP GEAR Short in front and long in the back is the optimal silouhette(aka Mullet tops), especially if you have a bigger bottom. Be bold and go for a bright color or something sheer. If blouses aren't your thing, cute mini concert tees work, too.
THE HEIGHTS  Unless you are a leggy model-type, wear some sort of heel or you will risk looking stumpy. Our pick for day is a pair of platform sneakers. At night, go for something sky high and sexy.
ACT LIKE A LADY Frumpiness begone with lots of girly accessories. We think a smokin hot armparty and 50's frame bag will do the trick.
Two Boyfriend Jeans to Try
1. G Star Arc Loose Tapered Jeans
At first sight, you can't help but think, "Are you sure these aren't boy's jeans?" G Star's ARC style is far(very far) from your mid rise skinnies so you will be taken aback for a minute but slip them on and it is instant comfort.
The intricate construction – a marker of the brand – allows the fabric to curve to your natural body shape, despite the baggy fit. The waist band sits right on the hip so you never have to fret about a muffin top but you definitely have to get used to not wanting to pull them up since they are a drop crotch.
Roll these babies up and pair them with a black blazer, low cut tank, and black suede ankle boots for your new day-to-drinks outfit.
2. Diesel Getlegg Jeans
We had immediate chemistry with Diesel's GETLEGG jeans. The wash was was worn-in perfection. That was until we found out that they were low rise a.k.a mega-muffin top-city. We sucked it up and tried them on any way.
While this style were definitely lower than our usual, we harnessed the power of a tucked in tank top for extra support and love handles begone.
These have since become our ultimate weekend, kickback  jean. Pair with an oxford, grey sweatshirt, and platform sneaks – you're good to go brunching.