Are you ready for some football?!?! We sure are! Wellll, let's clarify a bit. Not just ANY football, SUPER BOWL football.
During the regular football season you get a bunch of guys running around the field doing…something (we're not exactly sure), none of your boyfriend's attention, and crowded bars filled with dudes yelling at the TV. Blech! But, during the Super Bowl – the final championship game between the two best football teams in the country – all of those annoying things fade away.
Here's why…
1. Halftime – The time between the second and third quarter when someone like Beyonce brings down the house with an amazing concert that everyone, everywhere talks about forever. Madonna's done it. Janet Jackson has done it (rememberthe Justin Timberlake incident?), and this year Bruno Mars and the Red Hot Chili Peppers will take the stage. Bring it on!
2. Super Bowl Commercials – Major brands pay millions of dollars to air LEGENDARY commercials on Game Day. Dorritos, GoDaddy, and Pizza Hut are always heavy hitters. A personal fave of all time is this one from Google.
3. Party Time – People around the country use this sporting event to as an excuse to throw WILD parties with kegs, trays of taco dips that look like a football field, and, of course, anything grilled. If that's wrong, we don't want to be right. Where da party at?!
If you're as excited as we are, the only thing left to do is pick your team and you're well on your way to having mega Super Bowl style!
Denver Broncos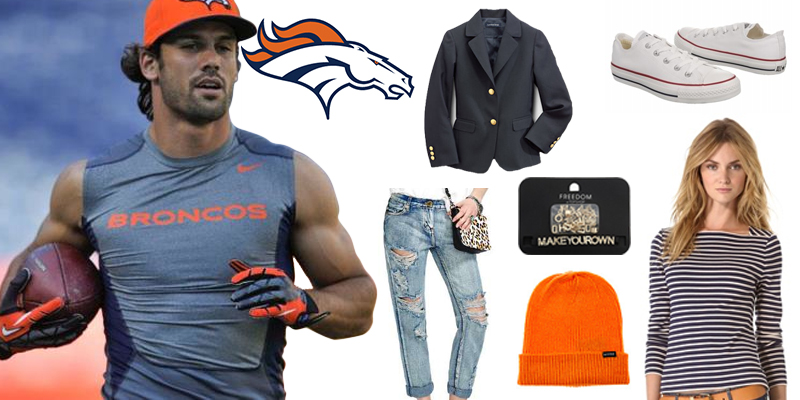 STATS
Team Colors: Orange and Blue
Location: Denver, Colorado — the "Mile-High City" best known for its ski/snowboard culture and Rocky Mountains.
Claim To Fame: Hottie, Eric Decker who is also co-star of E's realty show, Eric and Jessie.
WEAR IT: C. Wonder Wool Signature Blazer, $154.99, available at C. Wonder; Converse All Star Sneakers, $50, available atShoes.com; Tory Burch Stripped "Eden" Top, $225, available at Shopbop; Orange Beanie, $11.95, available at Karmaloop; One Teaspoon 1969 Boyfriend Jeans, $142, available at Nasty Gal; 'Make Your Own' Personalized Wristband, $28, available at Topshop
Seattle Seahawks
Cosmo
STATS
Team Colors: Orange and Blue
Location: Seattle, Washington – best known for its Space Needle, Nirvana's Kurt Cobain, and rainy days.
Claim To Fame: Quarterback Matt Flynn, easily a Matt Damon doppelgänger.
WEAR IT: Deena & Ozzy Buckled Ankle Boot, $89, available at Urban Outfitters; 'Floral X-Ray' Embellished Print Skirt, $120, available at Nordstrom; Merona Crossbody Bag, $26.99, available at Target; Ribbed Faux Thigh-High Tight, $16, available at Urban Outfitters; Velvet "Talisia Whisper" Classic Turtleneck, $64, available at Shopbop