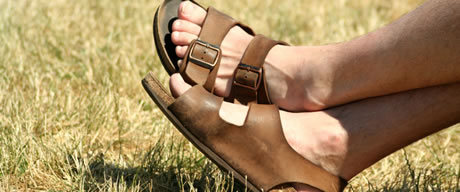 Sandals for men are contentious; the internet is full of fashion types telling you the minimalist shoes a no no for the well-dressed gentleman. Don't listen, sandals are functional and can be as stylish as any other well-crafted piece of footwear. Here are some different types to consider when making your choices:
1. Sport Thong/Flip Flops: Easy to wear and keep clean, flip flops are ubiquitous in the summer and beyond. Not just for the beach anymore, sport thongs come in a spectrum of colors and materials. Choose a sturdy leather pair; with dressy jeans they're a classic. Also, these are invaluable when you're travelling, they're easy to take off and put on going through the airport security.
2. Slides: No longer just for soccer, a slide looks great with khakis or a pair of dressy shorts. Pick a natural fiber upper, again leather is a strong choice, it comes in many lovely colors and looks great for an outdoor wedding or dinner on the terrace. Not meant for a lot of walking, however, do choose a pair that does not shift on your feet much as you move. Consider the Reef Playa Cervesa slide.
3. Fisherman's/Gladiator sandals: These strappy sandals, which have been around since history began, made another cycle through fashions shows this spring. With something of an enclosed toe, try these with your business suit and push your workplace dress code. Just don't add socks, unless you're already someone's grandpa.