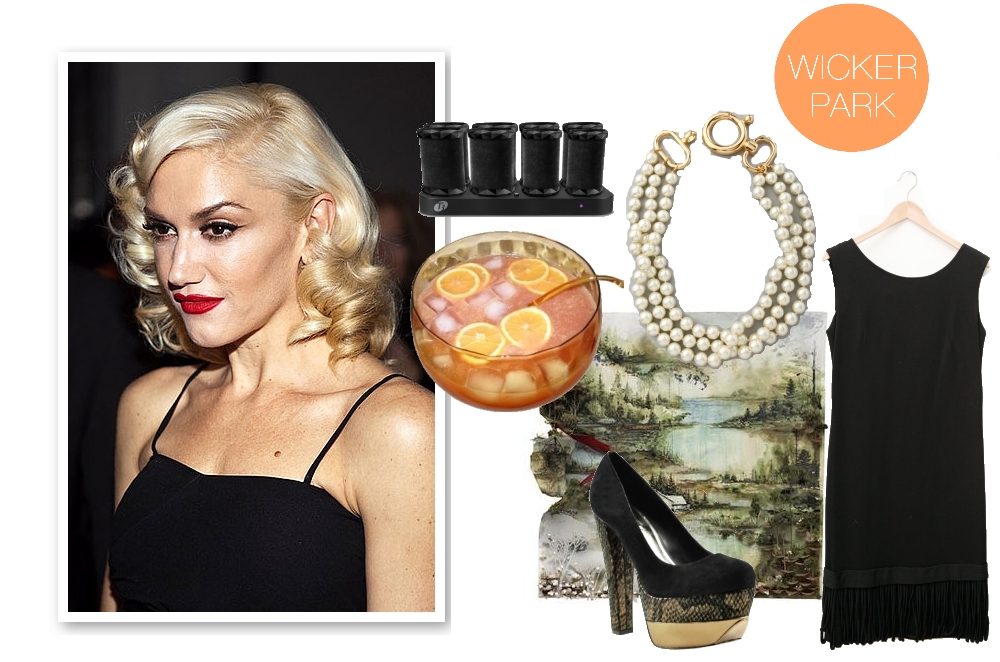 I fancy myself the consummate Wicker Park girl. Living there for 11 years(!), my wardrobe has become a lot like the neighborhood- ever-evolving, eclectic…and gentrifying with age. I love my west side style but there is something I need to confess…When I venture outside of my six-corner-comfort-zone, I dress different. There, I said it.
Nights downtown, I pull out my luxe pieces. Hanging in Pilsen, I go back in time five years to when I was hipster. Basically, I have a vacation wardrobe for my own city and TBH, I don't feel bad about it.
Inspired by my style-schizophrenia and a few of the neighborhoods that inspire us(me and my personalities), here are five under $100 LBD-looks for New Year's Eve. Because we're so crazy(about you!), we're GIVING AWAY any pair of Bakers brand shoes your heart desires(worth $100 or less) from Bakers.com to help you ring in 2012 in style.
Follow both @BakersShoes and @TheMidWasteland. Comment below with your favorite neighborhood look. For an EXTRA chance to win: Use the "share" button below to tweet this article both @BakersShoes and @TheMidWasteland, hashtagged with your favorite neighborhood look – #WickerPark, #LoganSquare, #GoldCoast, #WestLoop, or #RiverNorth. Contest ends at Midnight on 12.27.11.
DETAILS
Logan Square
PRIMP |Anastasia Brow Ex-Press Brow Palette, $38; WEAR | Vintage 80s velvet and lace party dress, $66.50//Wild Pair Leopard "DANA", $79.99; ADORN |Tom Binns Passive Attack rhodium and pearl earrings, $260; LISTEN | M83 – Hurry Up, We're Dreaming; DRINK | Orchard Old Fashioned from The Whistler
Wicker Park
PRIMP | T3 Voluminous Hot Rollers Set, $99; WEAR | Vintage 60s Midi Fringe party dress, $65//Wild Pair Black "ELLIE", $59.99; ADORN | Fallon Jewelry Large 3 Strand Pearl Necklace, $165.90; LISTEN | Bon Iver – Bon Iver; DRINK | Cecelia's Society Punch from The Violet Hour
Old Town
PRIMP | NARS Velvet Matte Lipstick Pencil in Red Square, $24; WEAR | Sequin Shift Dress, $27.50//Wild Pair "GISELLE", $69.99; ADORN | American Apparel Sheer Luxe Backseam Stocking, $18//Topshop Polka Dot Scarf, $28; LISTEN | Adele – 21 (aka "Someone Like You" on Repeat); DRINK | '99 Perrier-Jouet Fleur De Champagne at Old Town Social
Gold Coast
PRIMP | Dior Eyeliner Patches, $59; WEAR | Beaded Shoulder Shift Dress, $75//Bakers "SQUARED", $69.99; ADORN | Diane Von Furstenberg Cameron Long Leather Gloves, $225; LISTEN | The Weeknd – House of Balloons; DRINK | Dry Martini at The Pump Room
River North
PRIMP | NARS Body Illuminator in Laguna, $45; WEAR | Long Disco Dress, $47,50//Bakers "VENESSA", $90; ADORN | Hot Pink Bop Basics Turban Headband, $20//Free People Hayden Stone Cuff, $358; LISTEN | Florence + the Machine – Ceremonials; DRINK | French 110 at Hubbard Inn