An integral part of turning 30 is learning to accept that your metabolism is getting slower by the day. Even you skinny bitches need to realize this.
From age 0 – 26 ish, I could eat all things on Earth that I enjoyed – mostly tacos, nachos, cookies, and pasta – without a thought. My love of carbs/cheese coupled with a even stronger affection for wine(vodka, Champagne, and tequila) turned my slim, hourglass shape into a less than ideal counterpart that was not necessarily fat but perma-bloated. I can thank a steady diet of coffee, booze, coffee, booze, event appetizers, whatever's cheap at the grocery store, and a thimble full of water per week.
I looked "average"/normal to my friends since I made most of them post-college and they didn't know what I was working with when I was 23. My love handles and saddle bags were pretty well hidden under baggy button downs and body shapers. #ThatLife is cool for some girls, especially here in the Midwest. It's easy and acceptable. I get it but the "Why hit a treadmill when you can just wear Spanx?" mentality was not the path I wanted to go in for the rest of my life.
Knowing there was no way that I could give up drinking and eating crappy food once in a while, I decided it was time to get my ass(the one that I could hardly recognize when I saw it in the reflection of store windows) up and into a gym.
How to Pick A Gym in 3 Steps
Step #1 – Know What You Are looking For
I joined a couple of gyms in my 20s but both were not the complete package which made me either quit or never go. The first one, while inexpensive and full of amenities, became inconvenient when I moved and lacked the social aspect I crave. The second was one block from my apartment and costed $32 a month but I couldn't bring myself to ever go because it was the size of my living room.
Step #2 –  Research Based on YOUR Needs
For me, a gym must have these six qualities – convenience, sauna, members in my peer group(aka no geriatrics), good classes, updated machines, and spacious facilities. Tall order? Maybe. But, a gym is somewhere I want to feel 100% comfortable in since I will be there at least 10 hours a week. Your list might be different but I suggest you make one if you want to stick to a routine.
Step #3 – Make a Place in Your Budget for Fitness
Regardless of what you do or how much money you make, at this point in life, there should be a place in your budget for a gym membership. I mean, even a GD Groupon for some yoga classes will do. Fitness is a necessity! Unfortunately for me, I have high expectations for a my facilities so that sweatbox of a gym down the street won't do. But, that's me. Do you! As long as that involves moving your body 30 minutes per day.
The Winner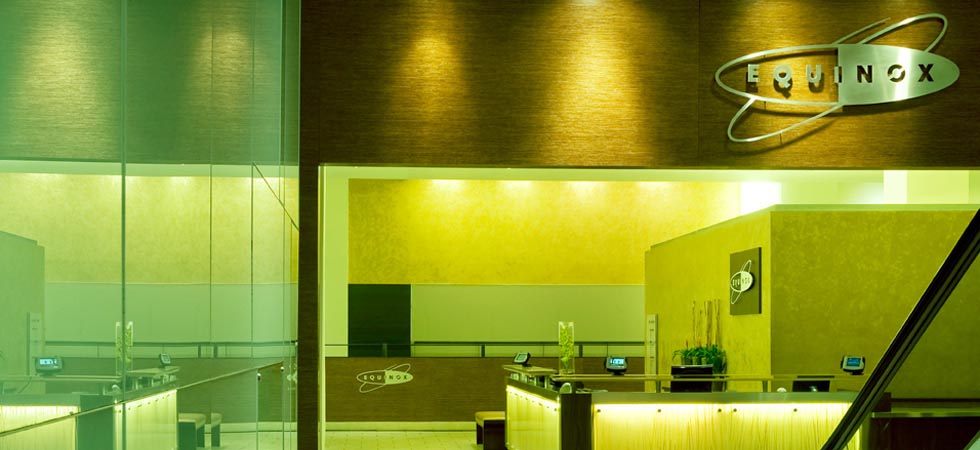 Equinox Gold Coast
When I think 900 N. Michigan, I think, J. Crew, Bloomingdales, Gucci. Not yoga, Pilates  and kettle bells. That was until a friend told me about the Equinox fitness center in the building's basement. The unassuming spot, adjacent to the Mario Tricocci spa, didn't pull me in instantly. The subterranean locale had me a little worried that it wouldn't have everything I was looking for but after a sit down with one of their awesome membership coordinators and a walk through, I.WAS.IN.LOVE. Everything I was looking for and more was packed in there.
First of all, they trick you with the facade. You would never guess on first look how spacious the facility is. On the entrance level you will find all of your machines, both cardio and weight. The huge studio where all the classes take place is there, too. Uhhh, the classes!!! So good. There is something for everyone. I'm a mat routine kind of gal but the roster of interesting offerings made me want to push my aerobic boundaries (a bit). Above that floor is a sensual yoga loft. Bordeline sexy, IMHO. Downstairs, there's another nook with more machines(for the days when you want to hide out or it's too crowded up top), a spin studio(which I expressly stay away from out of fear), a pool(O___O), a sauna(BINGO!), a spa, and the locker room. Oh god. The locker room. That is the room that sold me. It's a full blown luxury zone. The offering of Kiehl's products in the shower…the end.
My only complaint, it's a 10 minute drive from my apartment but, like, I have a car and they have a parking garage with validated parking. $2 for 3 hours. Which, when I think about it, is a semi-plus because it forces me to COMMIT time in my day to actually going. So, yeah, it's pretty much perfect.
Oh, and, if that doesn't sell you, maybe knowing that you can spot Bill Rancic(and a slew of other smoke machines) there on any given day should be added to the top of your list of why you should also consider joining Equinox Gold Coast. Let's be gym buddies!!!!!!
EQUINOX Gold Coast
900 N. Michigan Ave, Chicago, Il 60611
312.254.2500